*SEND YOUR CHILD A BOOMER VALENTINE!!*
VALENTINES ARE LIMITED, SO PLEASE SEE THE VIRTUAL BACKPACK FOR MORE DETAILS!
---
Feb. 18: Lunch With A Loved One
Flyer for guest sign up/lunch schedule in backpack
---
Please donate to the Kortney Rose Foundation to support pediatric brain tumors. Click the link below:
https://thekortneyrosefoundation.org
---
ALL VISITORS TO SCHOOL MUST BRING THEIR
DRIVER'S LICENSE TO ENTER THE BUILDING
News & Announcements
Phone: 732-842-0330
Fax: 732-212-0843

Mrs. Diane Ryan
Administrative Assistant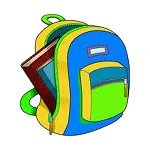 Virtual Backpack
Check here for more information or to find copies of misplaced papers.