Dec. 14: Giving Tree gifts due
Dec. 21: 1 PM Dismissal
Cafeteris is closed for purchasing. Send snack/lunch with your child.
Dec. 24 - Jan. 1: School Closed
Jan. 2: School is open
Jan. 21: School is closed
Jan. 30: K Open House 9:15-10:15 AM
Jan. 31: Pre K Open House 9:15-10:15 AM
ALL VISITORS TO SCHOOL MUST BRING THEIR
DRIVER'S LICENSE TO ENTER THE BUILDING
News & Announcements
Phone: 732-842-0330
Fax: 732-212-0843

Mrs. Diane Ryan
Administrative Assistant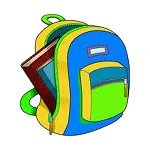 Virtual Backpack
Check here for more information or to find copies of misplaced papers.