Save The Dates:
May 24 & 27 : School Closed
May 30: DP Spring Concert:
K & Gr 1: 10 AM FD Gym
Grs 2 & 3: 7 PM FD Gym
---
Thank you very much for donating to the Kourtney's Cash for a Cure Fundraiser. Our school raised $3,232.59! Your generous support has helped fund research to support the Children's Brain Tumor tissue consortium.
---
ALL VISITORS TO SCHOOL MUST BRING THEIR
DRIVER'S LICENSE TO ENTER THE BUILDING
News & Announcements
Phone: 732-842-0330
Fax: 732-212-0843

Mrs. Diane Ryan
Administrative Assistant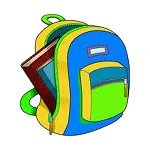 Virtual Backpack
Check here for more information or to find copies of misplaced papers.